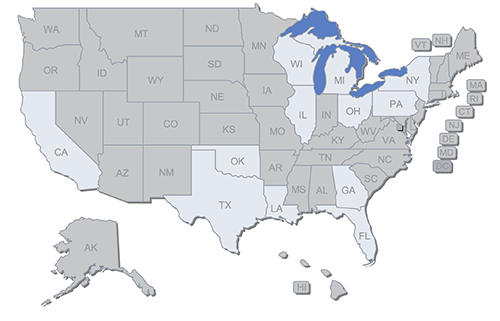 Credit Card Local is an extensive resource of credit card and personal finance information for local areas all across the United States. Our comprehensive local credit card guides dig deep to give you information that is specific to your area and therefore is also both useful and relevant to your personal finance situation.
Credit and personal finance trends vary widely in each state in the U.S.. Why should you be forced to dig through broad, national credit and finance resources when what you really need is more specific local information? You've found the right place - no more digging. Local information is now at your fingertips.
Not only do we provide state-specific information on credit cards and other personal finance topics, but we even go a level deeper to provide a wide range of city-level information, as well. We bring a local focus to the entire process of understanding your credit situation and even finding the right credit card. Get informed about all of the credit card options in your home area. With this knowledge in hand, you will then be prepared to make wise choices when it comes to getting online.
Learn about current credit card trends and other finance statistics in your local area, and then compare those to nationwide numbers. With this knowledge in hand, you'll be able to make a more informed decision when it comes to choosing your next credit card or making your next personal finance move.
Please contact us with any questions, comments or suggestions. We value you your feedback as we work to build the most useful credit card resource online.